So finally a couple of those pending trades from yesterday have finally triggered. They didn't trigger till early this morning, but one of them quickly took out the 1st TP target :)
A few others are starting to show some definate signs of a direction, so hopefully may see some more action this morning as well.
So first up is the EURUSD. This hit 1st target, so that's +40 pips banked on the that trade so far, and trade management is now active on that trade.
Next up is the GBPJPY. This is moving a bit slower, so nothing to report on that as of yet.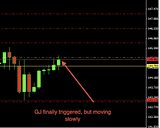 Sooooooo, lets see how the rest of the day goes.